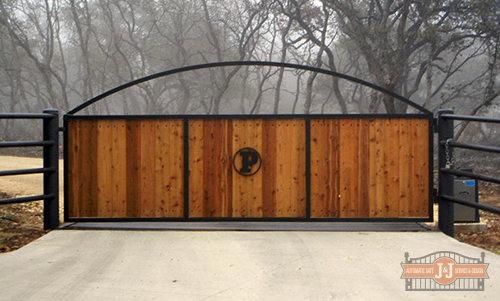 When it comes to home ownership, you are left with many options in regards to the aesthetics, safety, and convenience of your home. Many homes, particularly Texas homes, have a stretch of land surrounding the home, which offers beauty, privacy, and a feeling of freedom. However, also common in Texas are short, barbed wire fences that dissuade only the laziest of livestock. When you are a homeowner with a stretch of land surrounding your home, you may find that a well-built fence and gate are well worth the investment!
Automatic gates offer a variety of benefits to your property, from enhanced privacy, increased safety, and even a touch of luxury. Utilizing a fence and gate combo can save you money in insurance as well as security costs. Do you already have a fence surrounding your home, but you need to get out of your vehicle every time you leave or arrive at home? With an automatic gate, you can open and close your gate from the safety of your vehicle, and save yourself a good 10 minutes daily. Below we have listed some other benefits of an automatic driveway gate for your home, along with the options available!
Space Management
If you desire a fence and gate for your home, but your property line or driveway size leave you strapped for space, we offer slide gates to get the most out of your space! A sliding gate on wheels has no need to swing out or in, which allows you to enjoy the safety and convenience of an automatic gate without sacrificing your space! You can also choose single drive gates, which are smaller and have a smaller range to allow for limited space.
Decor and Aesthetics
Driveway gates offer a touch of luxury to any home, and we offer gates in a wide array of designs and styles. Front and side gates alike are a beautiful addition to your home.
Customization
With our gates, you have a wide variety of options to choose from. You can add an intercom or even a camera to your gate so that you can see and speak with visitors without leaving your home. You can also opt to have multiple remotes, or a pin pad, whichever is more convenient for you. With some systems, you can choose to operate your gate with your cell phone as well!
Privacy
Privacy is one of the main reasons our customers choose to add automatic gates to their home. With a gate from J & J Gates, you can add a great deal of privacy to your home, and feel safer when you are at home or away.
*If you are interested in adding an automatic gate to your home in Fort Worth, TX, call J & J Gates today! We are here to help make homes feel safer, and more beautiful one automatic gate at a time! *