When you need a trusted, quality gate for your residential or commercial property, make J & J Gates Service and Design your top choice. Our business has installed more than 1,000 gate systems throughout the Dallas-Fort Worth area over the past 10 years, and we are still growing. Give us a call at (817) 466-2794 for quality gate services in Bedford, TX today.
Our Services
Whether you need a repair done on an aging gate system or want a beautiful, custom fabricated gate, you can count on J & J Gates Service and Design. In addition to gate system services, we also service garage door openers, fencing, and more. The primary purpose gates provide are security and looks, so we work hard to accomplish both according to your needs. Call us when you need trusted gate repair and installation in Bedford, TX such as:
We Work on All Types of Gates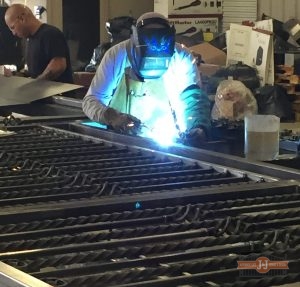 Are you looking for a basic chain link gate for your business, or a stunning wrought iron and wood gate for your property in Bedford, TX? No matter what type of gate you need, J & J Gates Service and Design has a solution to meet your unique needs as well as your budget. By providing the best access systems and using quality materials in our work, you can rely on us to provide reliable, high-quality gate systems for each project. Whether you simply want a built gate or a custom gate, we have a solution for you. If you need gate installation in Bedford, TX, contact our technicians at (817) 466-2794 if you have any questions! No matter what style of gate system you need, our technicians have a solution for your business, such as:
Options for Everyone
You can rest easy knowing that our installers take their time to hear your requirements to achieve a reliable gate that meets your criteria. This is why we are committed to providing complete satisfaction through dependable gate services. With our extensive selection of quality access systems and materials, you won't be let down by our products. Contact our company anytime for a complimentary estimate, or talk to our staff to determine what kind of gate would suit your needs. Whether you want a basic gate system or have a more complex request, we are happy to help you find the ideal gate system. When deciding the type of gate you want for your residential or commercial property, consider some popular styles:
Call us at 817-466-2794 or professional service and premier gate services in Bedford, TX anytime!