J & J Gates Service and Design is available for all your commercial and residential gate system repair and installation. Our staff has more than a decade of experience in installing all kinds of gate systems in DFW. Call our crew today at (817) 466-2794 for exceptional gate services in Justin TX, including comprehensive repair and maintenance.
Our Services
At J & J Gates Service and Design, we excel in everything from old gate repair to constructing new, high security gates for businesses and private residences. Not only can our experienced technicians repair gates and operation systems, but we also work on garage door openers, fences, and more. Depending on your specific property requirements and your budget, we will work hard to provide you with a quality gate system to meet your needs. If you require quality gate repair and installation in Justin, TX, call our team for any of the following:
We Work on All Types of Gates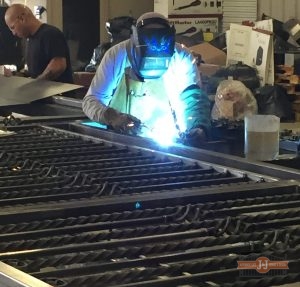 Do you need a high quality wooden gate for your ranch or a high-tech access system for your company? On each project, J & J Gates Service and Design works to meet your unique needs and stay within budget while providing quality, beautiful results. We are proud to provide a large selection of gate styles and designs, using only top quality materials and manufacturers. Plus, we specialize in custom gate fabrication so you can get the exact look that you want for your home or business. If you need gate services in Justin, TX, call our installers at (817) 466-2794 if you have any questions! Our crew installs and repairs all types of gate systems, including:
Options for Everyone
Because we offer skilled gate services to a wide array of clients, we understand that different situations call for different solutions. This is why we are dedicated to providing 100% satisfaction with our quality gate services. In addition to quality products, we are committed to excellent customer service and want you to have a good experience with us! Contact our company today for a free estimate, or talk to our staff to find out what kind of gate would suit your needs. Our staff will do a thorough inspection of your property and consider all your requirements in order to design a quality gate system for you. To find out more about our services, give us a call today or check out some of the types of gates we install and repair:
Call us at (817)-466-2794 for professional service and premier gate installation and repair in Justin, TX anytime!